Growing number of learners at medical schools and teaching hospitals are training through computer-generated simulations thanks to VR and its cousin, augmented reality (AR). These sophisticated tools allow learners to plunge safely into life-or-death scenarios, peel away layers of human anatomy, walk through a virtual heart, and more. As technologies from the gaming industry improve and costs decline, leaders in academic medicine are increasingly exploring the place of such simulations in medical education.
Early adopters note the varied benefits of AR and VR, including the opportunity for real-life experiences without real-life consequences.
Let us start by explaining what each one actually means
Virtual Reality
Virtual reality is an entirely computer-generated view of a world — that is, purely virtual. Everything the user sees is manufactured but as close to experiencing it in real life as you can get.
Augmented Reality
Augmented reality, by contrast, superimposes computer-generated images and sounds onto the real world. In medicine, this includes simulated internal organs overlaid on a real manikin.
It bridges the gap between role-playing and high-fidelity simulation."
Virtual Reality vs Augmented Reality:

Click here to read the articles about Virtual reality in medical education.
https://www.aamc.org/news-insights/future-or-fad-virtual-reality-medical-education
Who are the Early adopters of these technologies and what areas have they identified for these technologies?
Children's Hospital Los Angeles (CHLA): Handling emergency situations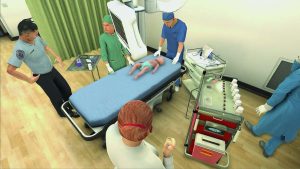 Stanford University School of Medicine: Use of VR for training in its Neurosurgical Simulation and Virtual Reality Center. There, a platform called Surgical Theater fuses several types of brain scans from a real patient to achieve greater specificity and verisimilitude.
Mayo Clinic: Instructors use AR for various purposes at Multidisciplinary Simulation Center, to teach students how to interpret ultrasound imaging. As students look at a standard ultrasound view, AR adds images of underlying tissues, bone structures, blood vessels, muscles, and nerves for a deeper understanding of the ultrasound visualization.
UC Irvine School of Medicine: Faculty recently launched an AR pilot project for fourth-year students and emergency medicine residents. There, a computer app superimposes a hologram of a patient over a manikin to produce a much more lifelike and responsive simulation
What the early adopters are saying about their experience using these technologies?
"The beauty of this is really that you can appreciate in three dimensions what the structures look like."
Gary Steinberg, MD, PhD
Stanford Medical School
"You don't get that feeling of adrenaline through a written test," says White. "You get it through experiencing it, and I think this is as close to experiencing it in real life as you can get."
Todd Chang, MD, MAcM,
Director of research and scholarship at CHLA
"Wearing my technologist hat, this is an incredibly exciting time. … But my physician side is a little more cautious in thinking that we shouldn't jump headfirst into every new technology that comes out."
Warren Wiechmann, MD
Associate Dean of Clinical Science Education and Educational Technology
University of California Irvine School of Medicine
So who is winning the race VR or AR?
Let us start by saying that this is definitely not a race but an opportunity in our future that needs to be taken seriously by all the stakeholders involved, including the learners and patients.
As prices fall, the capabilities of the technology grow, and developers create new teaching modules, a trend toward greater use of virtual and augmented reality in teaching and training seems almost guaranteed.
References:
https://www.aamc.org/news-insights/future-or-fad-virtual-reality-medical-education