Visualize this..a nurse is working in the hospital on a morning shift and as soon as she begins her shift she already has three patients in there-a 42 year old male with abdominal pain, a 72 year old female with severe respiratory distress, an 18 month old baby who has swallowed a part of his toy. By the time she plans out how she will proceed to managing these three patients she receives a call of a head on collision of a school bus with a minivan. She now has to start prepping to receive the injured patients. By now you would have guessed which unit this nurse is working in. Yes- it's the Emergency room or the ER.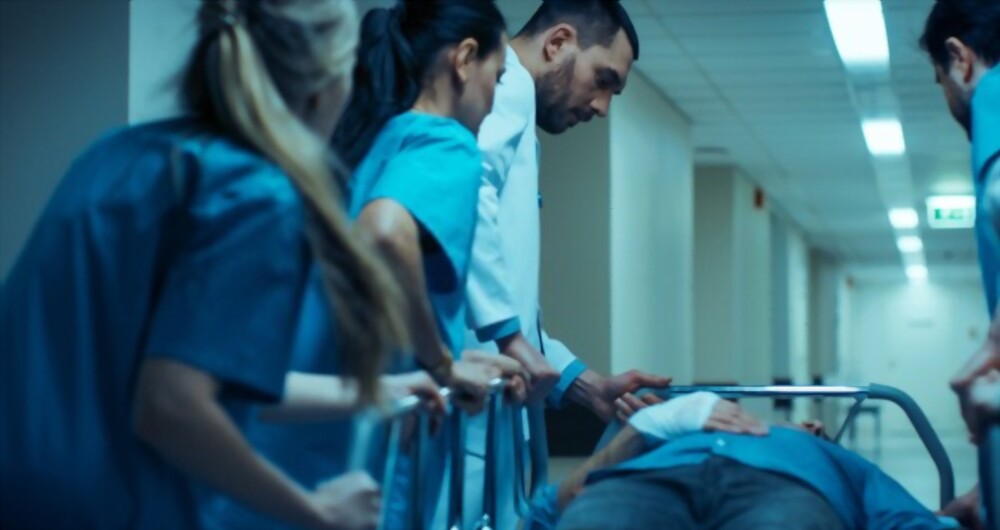 Emergency room (ER) or the emergency department as may be known in some hospitals is that unit of the hospital where patients come in times of an urgent health related situation such as severe illnesses or injuries.  This unit functions round the clock and there will be many patients who may need to be managed at one time. There may not be a fixed schedule of activities as each day is going to be different, with different types of patients and varied challenging situations. Almost all the time it is the ER nurse who will be the first person to come in contact with the sick patient and family.  The environment in the ER can be chaotic at times hectic and very fast paced
Emergency Nurses work with a team of healthcare professionals that include the doctors, nurses, technicians etc. The ER nurses are specialized in carrying out rapid assessment and management of patients keeping in mind that every second is crucial to a patient's survival. The emergency room nurses remain calm, efficient, and empathetic while working incredibly long shifts with few breaks.
Roles and responsibilities of an ER nurse
Patients of all ages come to the ER and so it is important that the nurse has adequate knowledge and skills about different disease conditions as well as managing patients of different age groups. 
The tasks that an ER nurse performs are similar to that performed by any nurse in a different unit, the difference being the time taken to perform the procedure.  The time is shortened as patient's survival is at stake. An ER nurse is expected to be swift in her actions so that she can handle the sick patient aptly.  If you happen to take up a job in the ER these are some of the activities that you will be expected to perform
Quick and accurate assessment of patients

Triage patients based on the severity of illness/injury. Some institutes may have a triage nurse specifically carrying out this responsibility

Continuous monitoring of patients 

Work in coordination with the health team members to provide quality and timely care to the patient

Getting relevant diagnostic tests done

Manage the critically ill/injured patients during the initial phase by timely administration of medications, intravenous infusions or as directed by the physician

Provide psychological support to the patient and family members

Report any suspected abuse

Provide follow up care instructions to patients and make necessary referrals

Maintain accurate and up-to-date patient charts
Skills required of an ER nurse
Most of the hospitals may require that the ER nurse have some additional certifications such BLS and ACLS or emergency nursing or trauma care. In addition, you should possess the following skills
Ability to work under pressure

Critical thinking 

Close observation 

Organization and prioritization skills 

Multitasking and time management

Good communication and interpersonal relationship

Compassionate towards the patients & family members
Challenges faced by an ER nurse
As mentioned earlier, working in an ER can be hectic and very unpredictable. Nothing is structured and you will have to manage patients of all ages with varied health related issues. This can be stressful and emotionally draining at times. Though there may be lean moments in the ER, most of the time the unit tends to be quite busy with continuous inflow of patients and long shift hours. This can be physically taxing too. The ER nurse is also exposed to violence from patients or family members. These may be patients under the influence of alcohol or drugs or may be experiencing psychiatric symptoms. The family members may also be hysterical and have anger outbursts putting the nurses and other team members at risk for violence.  
Do you have it in you to become an ER nurse?
Considering the fast paced and unpredictable environment that an ER has, you need to possess good coping skills. There should be the ability to remain calm and efficient even though working through a tiring shift. You also need to have a good control over your emotions as at times the scene in the ER may not be too encouraging. In addition, you need to possess good decision-making skills and have passion for continual learning. So, if you feel you have the above skills in you and working in a fast moving environment with different kinds of patient's excites you then this is the right career option for you after you finish your basic program in nursing.