A mental health nurse works in a field of nursing which specializes in caring for individuals with psychiatric illness, helping in their recovery and contributing towards their quality of life.
Mental health nurses possess advanced knowledge of the assessment, diagnosis, and treatment of psychiatric disorders and providing specialized care. They usually work alongside other healthcare professionals with an objective to provide the optimal clinical outcomes for the client. Individuals of any age can get affected by mental illness. Therefore, a mental health nurse may need to work with various diverse personalities from different backgrounds.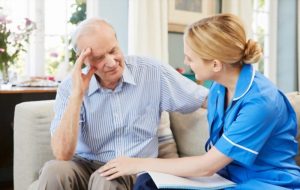 You may get an opportunity to work with clients in diverse settings including:
Home settings

Healthcare centres

Hospital outpatient's departments (OPD)

Community.

Clinics
Key skills required for mental health nurses
Good understanding of mental health and illness theories

Excellent observational skills to assess clients and watch for signs of stress and anxiety, change in behaviour or mood

Excellent communication skills for dealing with clients and their families

Ability to work in a team

A lot of patience

Good listening skills

Ability to think quickly in challenging circumstances

Emotional resilience 

A non-judgemental approach

Decision making skills 

Time management

Ability to empathize with clients

Ability to understand the social stigma related to mental illness.
Role of a Mental health nurse:
The primary role of a mental health nurse is to deliver care to clients with a psychiatric disorder, mental health illness, or behavioural problems. 
A mental health nurse is responsible for the
Holistic assessment and evaluation of the client's mental health

Assessing and planning nursing care requirements

Encourage trust and interpersonal relationship with clients

Development of treatment care plan

Building relationships with, reassuring and listening to and talking to clients

Administering of medications and monitoring the result of treatment

Agreeing and reviewing care plans and monitoring progress

Maintenance of medical records

Help in developing social skills

Encouraging clients to take part in therapeutic activities such as art and craft, games etc.

Combating stigma and helping clients and their families manage it

Consultation with other healthcare professionals about treatment plan

Support and education to the clients and their family

Provide awareness regarding mental health

Visiting clients at home

Organise social events intended to develop clients' social interactions and skills to reduce their feelings of isolation and anxiety
Challenges faced by mental health nurse
A mental health nurse may face many challenging situations while she is at work. She will be responsible for taking care of clients with a range of conditions ranging from schizophrenia to mood disorders, dementia and addictions. The client most of the time may deny the presence of mental illness. They may suddenly turn aggressive and violent causing a risk of injury to themselves or the others. The nurse is quite often exposed to unpredictable behaviour of the client. They may also refuse to cooperate in the treatment regimen and refuse to take medicines. All these can lead to emotional fatigue, burnout and frustration. There may also be challenges owing to staff shortage wherein the nurse may be required to work for longer shifts.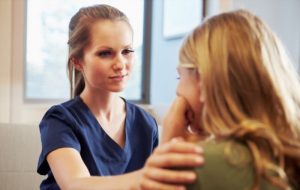 Career opportunities
As a mental health nurse, you have plentiful opportunities that can be opted for a progressive career. You can become a nurse specialist who work with either some specific clients (such as children, young individuals) or in a specific area such as alcohol or substance abuse, forensic psychology or psychotherapeutic interventions.
A mental health nurse can further climb up the ladder to positions such as an advanced nurse practitioner, nurse manager or nurse consultant, which may provide openings towards more specialized roles. For acquiring such job roles, you would require additional qualifications such as Master's level with related experience. You may also move into other roles, such as lecturer, practitioners, mentors, therapist, preceptor and researcher.
Being a psychiatric nurse is not just a normal nursing job rather a specialization within the nursing community that requires kindness, compassion and extra care. Mental illness can be chronic and difficult to treat however, with the right treatment and care many patients are able to resume normal lives. And that's where a mental health nurse can play a major role irrespective of whether she is working in the hospital, clinic or community.